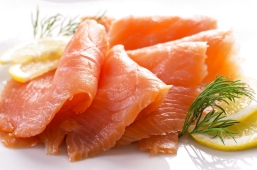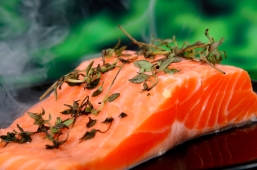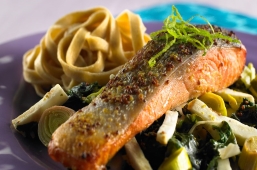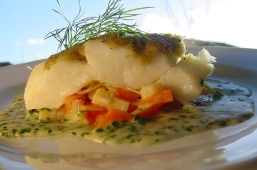 KD Seafood ApS blev grundlagt af Kim Durhuus i 2003. Vores team har sammenlagt mere end 50 års erfaring med seafood, både praktisk og teoretisk.
Vi er en global handelsvirksomhed med primært fokus på lakseprodukter, fra både opdrættet og vildtfanget laks. Produktpaletten supplerer vi med andre typer seafood produkter, efter kundens ønske
Vi tilbyder alle typer lakseprodukter i den bedste kvalitet – fra fersk fisk, over halvfabrikata til videreforædling. Laksen importeres fra førende globale producenter, herunder Chile, Skotland, Island, Norge, Færøerne m.fl.
Vi går ikke på kompromis med levering og kvalitet, og har derfor indarbejdet et solidt logistik- og kvalitets- kontrolapparat, der sikrer, at kunden til enhver tid får leveret de bestilte varer, i den korrekte mængde og ikke mindst i høj kvalitet.
Gennem årene har vi opbygget solide relationer både til vores kunder og leverandører. Det betyder at vi har en solid indsigt i markedet og en god føling for kundernes behov og ønsker.
Vi leverer primært til cateringbranchen samt fødevareproducenter, der videreforarbejder og forædler produkterne.
KD Seafood ApS was founded by Kim Durhuus in 2003. Our team has more than 50 years of experience with seafood, both practical and theoretical.
We are a global trading company with primary focus on salmon products, from both farmed and wild-caught salmon. The product palette is complementary to other types of seafood products, according to the customer's wishes
We offer all kinds of salmon products of the best quality – from fresh fish, to semi-finished products for further processing. Salmon is imported from leading global producers, including Chile, Scotland, Iceland, Norway, Faroe Islands, etc.
We do not compromise on delivery and quality, and have therefore incorporated a solid logistics and quality control device that ensures that the customer is always supplied with the ordered goods, in the correct quantity and, in particular, in high quality.
Over the years, we have built solid relationships both for our customers and suppliers. This means that we have a solid insight into the market and a good feeling for customers' needs and wishes.
We mainly supply the catering industry as well as food producers who further process and process the products.
KD Seafood ApS wurde 2003 von Kim Durhuus gegründet. Unser Team verfügt über mehr als 50 Jahre Erfahrung mit praktischen und theoretischen Meeresfrüchten.
Wir sind ein globales Handelsunternehmen mit einem Schwerpunkt auf Lachsprodukten, sowohl von Zuchtfischen als auch von Wildfängen. Die Produktpalette ist komplementär zu anderen Arten von Meeresfrüchten, je nach Kundenwunsch
Wir bieten alle Arten von Lachsprodukten in bester Qualität an – von frischem Fisch bis zu Halbfabrikaten für die Weiterverarbeitung. Lachs wird von weltweit führenden Herstellern importiert, darunter Chile, Schottland, Island, Norwegen, Färöer usw.
Wir gehen bei Lieferung und Qualität keine Kompromisse ein und haben deshalb ein solides Logistik- und Qualitätskontrollgerät eingebaut, das sicherstellt, dass der Kunde immer mit der bestellten Ware in der richtigen Menge und insbesondere in hoher Qualität beliefert wird.
Im Laufe der Jahre haben wir solide Beziehungen sowohl für unsere Kunden als auch für unsere Lieferanten aufgebaut. Das heißt, wir haben einen guten Einblick in den Markt und ein gutes Gespür für die Bedürfnisse und Wünsche der Kunden.
Wir beliefern vor allem die Gastronomie sowie Lebensmittelhersteller, die die Produkte weiter verarbeiten und verarbeiten.
KD Seafood ApS fue fundada por Kim Durhuus en 2003. Nuestro equipo cuenta con más de 50 años de experiencia en productos del mar, tanto prácticos como teóricos.
Somos una empresa comercial global con un enfoque principal en los productos de salmón, tanto del salmón cultivado como del capturado en el medio silvestre. La paleta de productos es complementaria a otros tipos de productos del mar, de acuerdo con los deseos del cliente
Ofrecemos todo tipo de productos de salmón de la mejor calidad, desde pescado fresco hasta productos semiacabados para su posterior procesamiento. El salmón es importado de los principales productores mundiales, incluidos Chile, Escocia, Islandia, Noruega, Islas Faroe, etc.
No comprometemos la entrega y la calidad y, por lo tanto, hemos incorporado un sólido dispositivo de control de calidad y logística que garantiza que el cliente siempre reciba los productos solicitados, en la cantidad correcta y, en particular, en alta calidad.
A lo largo de los años, hemos construido relaciones sólidas tanto para nuestros clientes como para nuestros proveedores. Esto significa que tenemos una visión sólida del mercado y un buen presentimiento de las necesidades y deseos de los clientes.
Suministramos principalmente a la industria de la restauración, así como a los productores de alimentos que procesan y procesan los productos.